Embassy of the United States of America in the Czech Republic
The United States of America embassy in Czech Republic is located in the center of Prague. The Embassy's working hours are from 8.15 to 11.30 by local time.
Address of the embassy
The United States of America embassy in Czech Republic is located at Tržiště 15, Prague. The Embassy's postal code is 118 01.
Contact details
Tel.: (+420) 257 022 000
Fax: (+420) 257 022 809
e-mail:
gremb.rig@mfa.gr
The official website:
cz.usembassy.gov/embassy/prague/
Ambassador
Ambassador Extraordinary and Plenipotentiary posted to Chechia at the United States of America embassy is His Excellency (H.E.) Mr. Stephen B. King
On October 5, 2017 Stephen B. King was confirmed by the Senate as the United States Ambassador to the Czech Republic. He is a noted public servant and businessman who successfully earned with a specialty chemical manufacturing business and founded a investment business. From 2007 to 2017 Ambassador King served as a National Committeeman for the Wisconsin Republican Party.
Earlier Ambassador King investigated civil rights violations for the Federal Bureau of Investigation, served as an investigator for the U.S. Senate's Constant Subcommittee on Investigations, and settled Special Assistant to the United States Secretary of Agriculture for liaison between USDA and the Agriculture Committees of the House and Senate.
Ambassador King earned a M.A. and a B.S. at Western Illinois University. He grew up in Chicago, Illinois. He is married to the former Karen Ruyle. They have three grown children and seven grandchildren.
Pictures of the embassy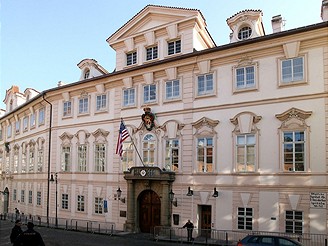 About the embassy
The embassy of the United States in Prague are working together with the Czech Republic to strengthen our partnership by advancing the key goals of regional stability, economic prosperity, and other aspects within the Czech Republic and in Central Europe. Through its diplomatic and public activities, the U.S. Embassy aim to assure regional stability via our shared commitment to security organizations like NATO and the OSCE.