Embassy of the Malaysia in the Republic of France
The Malaysia embassy in France is located in the center of Paris. The Embassy's working hours are from 9.00 to 17.00 by local time.
Address of the embassy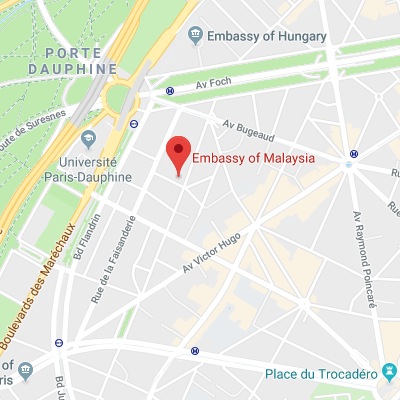 The Malaysia embassy in France is located at 2 bis, rue Bénouville, Paris. The Embassy's postal code is 75116.
Contact details
Tel.: (+33) 1 45 53 11 85
Fax: (+33) 1 47 27 34 60
e-mail:
mwparis@kln.gov.my
The official website:
kln.gov.my
Ambassador
Ambassador Extraordinary and Plenipotentiary posted to France at the Malaysia embassy is Her Excellency (H.E.) Mr. Dr. Azfar Mohamad Mustafar
Dr. Azfar Mohamad Mustafar is Malaysian ambassador to France since 7 September 2018.
Pictures of the embassy
About the embassy
The embassy's is to Project, Promote, Protect and Enhance Malaysia's National Interest In Foreign Policy, Trade & Investment, Tourism, Education, Defence And Public Services
Malaysian goals are projection of Malaysia's Image: Enhance awareness and understanding of Malaysia as a progressive and moderate Muslim country under the 1Malaysia brand.
Bilateral Relations & Cooperation: Maintain and enhance close bilateral relations and promote Malaysia as a strategic partner for business, tourism, higher education, defence and other opportunities. Strategic Global Cooperation - Cooperate closely with France on regional and international issues of mutual concern.