Embassy of the Federative Republic of Brazil in the Kingdom of Spain
The Federative Republic of Brazil embassy in Spain is located in the center of Madrid. The Embassy's working hours are from 10.00 - 14.00 and 16.00 - 19.00 by local time.
Address of the embassy
The Federative Republic of Brazil embassy in Spain is located at Calle Fernando El Santo, 6, Madrid. The Embassy's postal code is 28010.
Contact details
Tel.: (+34) 91 700 46 50
Fax: (+34) 91 700 46 60
e-mail:
brasem.madrid@itamaraty.gov.br
The official website:
madri.itamaraty.gov.br
Ambassador
Ambassador Extraordinary and Plenipotentiary posted to Spain at the Federative Republic of Brazil embassy is His Excellency (H.E.) Mr. Pompeu Andreucci Neto
A Brazilian career Diplomat, Ambassador Andreucci Neto served between 2016 and 2018 as Chief of Protocol to the President of Brazil.
Starting in 2011 until 2016 he served as Chief Diplomatic Advisor to the Vice President of Brazil. From 2006 through 2011, Mr. Andreucci Neto worked as Minister-Counselor at the Embassy of Brazil in Washington, D.C., where he led the Economic Affairs, Trade and Financial Policies Sector.
From 2003 to 2006, he was Secretary of International Affairs at the Ministry of Development, Industry and Foreign Trade of Brazil. Between 2001 and 2003, Mr. Andreucci Neto served as Advisor to the Under-Secretary Generalfor Integration, Economics and Foreign Trade at the Ministry of Foreign Affairs of Brazil. His previous diplomatic postings include Washington, D.C.; Montevideo; New York; Paris and Santiago.
Pictures of the embassy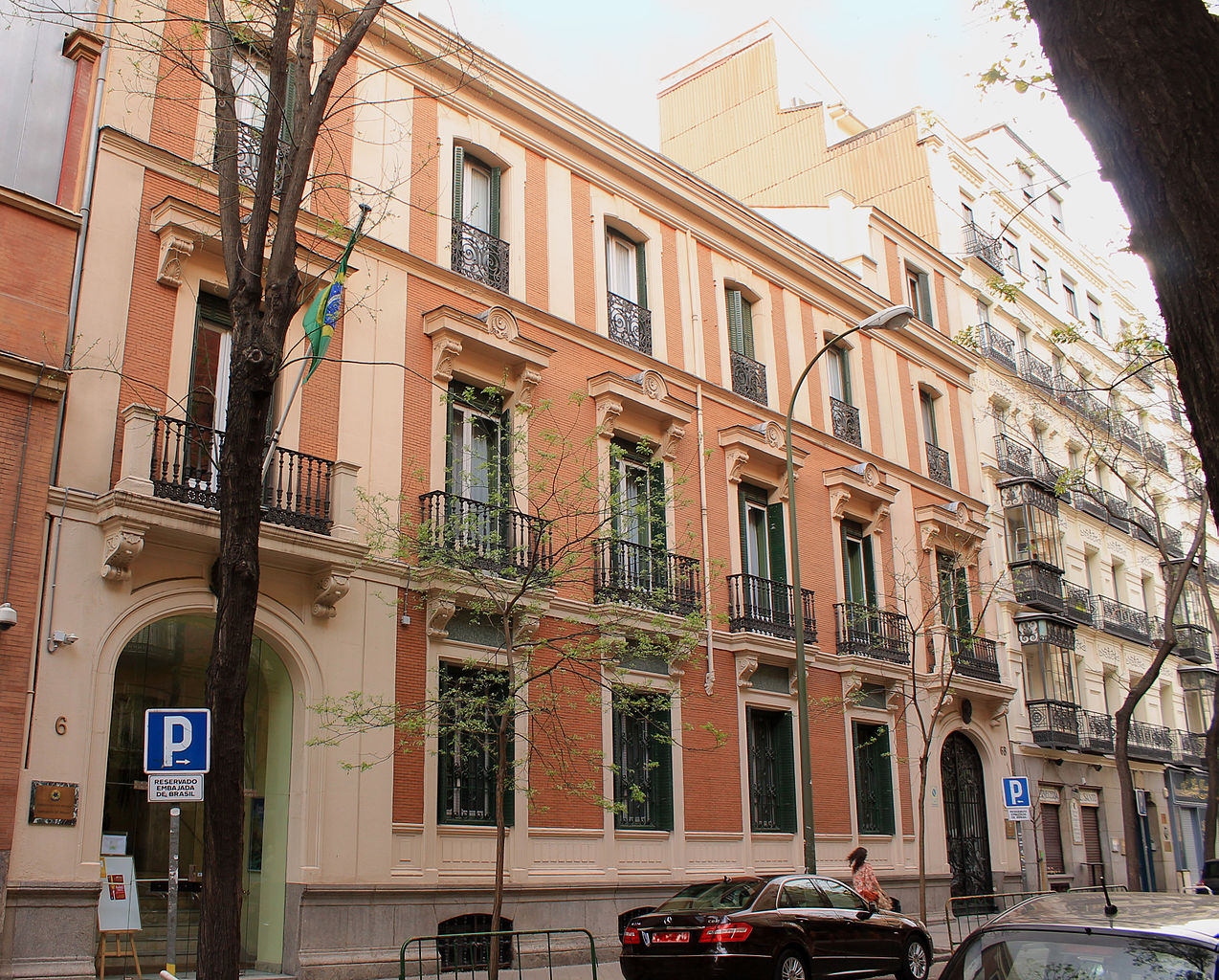 About the embassy
The building occupied by the Embassy of Brazil in Madrid was built in the year 1880 by the engineer José Canalejas y Casas and the architect Francisco del Valle by order of Joaquin Sánchez de Toca y Calvo, owner of a fraction of the "Huerta de Loinaz", as it was called the area bounded by the current streets of Genoa, Almagro, Marques de Riscal and Paseo de la Castellana.
The political proximity between Brazil and Spain has intensified after the signing of the Strategic Partnership Plan, with frequent exchange of visits at all levels of Government. Bilateral contacts occur both at the national level and at the level of states, municipalities and regions.
In 2005, the two countries signed the Brasilia Declaration of Consolidation of the Brazil-Spain Strategic Partnership, which was signed in 2003.
There are excellent prospects for closer relations in areas such as trade and investment, bilateral and trilateral cooperation, science and technology, defense, energy, education, acting in multilateral organizations, among others.