Embassy of the Canada in the Republic of France
The Canada embassy in France is located in the center of Paris. The Embassy's working hours are from 9.00 to 12.00 and 14.00 - 17.00 by local time.
Address of the embassy
The Canada embassy in France is located at 130 rue du Faubourg saint-Honoré, Paris. The Embassy's postal code is 75008.
Contact details
Tel.: (+33) (1) 44 43 29 00
Fax: (+33) (1) 44 43 29 99
e-mail:
paris@international.gc.ca
The official website:
canadainternational.gc.ca/france/
Ambassador
Ambassador Extraordinary and Plenipotentiary posted to France at the Canada embassy is Her Excellency (H.E.) Mrs. Isabelle Hudon
On September 29th, 2017 She was appointed ambassador of Canada to France and Monaco by the Right Honourable Justin Trudeau, Prime Minister of Canada. She presented her letters of credence to President Emmanuel Macron on December 18th, 2017 and to H.S.H. Prince Albert II on April 24th 2018.
Prior to her appointment as ambassador, Ms. Hudon successively assumed the responsibilities of President and Chief Executive Officer for Sun Life Financial, Quebec while leading one of the four business lines as Senior Vice President for Sun Life Financial Canada. Working with Sun Life Financial experienced theirs impressive growth in all business lines in Quebec and returned to a place of prominence in the community.
In 2018, Ms. Hudon was appointed by the Prime Minister of Canada, the Right Honorable Justin Trudeau, co-chair of the Gender Equality Advisory Council for Canada's G7 Presidency. At the Charlevoix Summit in June 2018, Ms. Hudon shared with the G7 leaders the recommendations of the Advisory Council. Mrs. Isabelle Hudon is the co-founder of L'Effet A, a movement that aims to help women achieve their professional ambitions.
Pictures of the embassy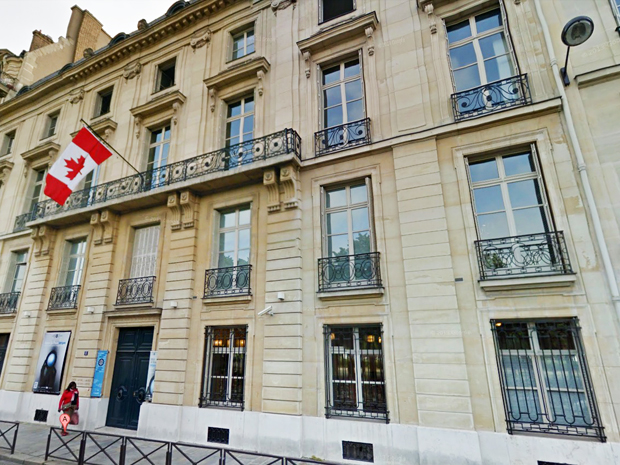 About the embassy
The Canadian Embassy in France function as the representative of the Government of Canada to the Government of France. Embassy's role is to represent Canadian interests in France in economic and commercial and cultural fields and, in more general terms, to promote these areas of expertise and excellence to specialized contacts or the common public.
The embassy also is charged with observing and informing its authorities about the situation in the host country.
Diplomats are responsible for negotiating bilateral agreements and protecting the interests of their government and its citizens.