Embassy of the People's Republic of China in the Republic of France
The People's Republic of China embassy in France is located in the center of Paris. The Embassy's working hours are from 9.30 - 12.00 and 14.30 - 17.00 by local time.
Address of the embassy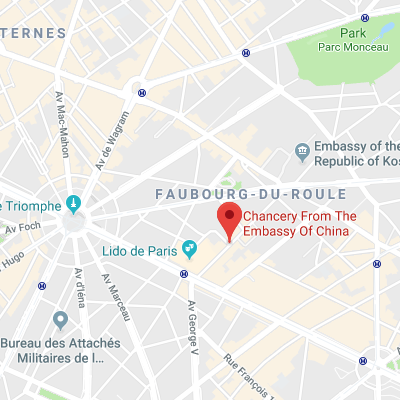 The People's Republic of China embassy in France is located at 20, Rue Monsieur, Paris. The Embassy's postal code is 75007.
Contact details
Tel.: (+33) 1 495 219 50
Fax: (+33) 1 472 024 22
e-mail:
chinaemb_fr@mfa.gov.cn
The official website:
fr.china-embassy.org/chn/
Ambassador
Ambassador Extraordinary and Plenipotentiary posted to France at the People's Republic of China embassy is His Excellency (H.E.) Mr. Jun Zhai
Mr. Jun Zhai has served as Deputy Foreign Minister from 2009 to 2014, and was appointed Chinese ambassador to France in January 2014.
Pictures of the embassy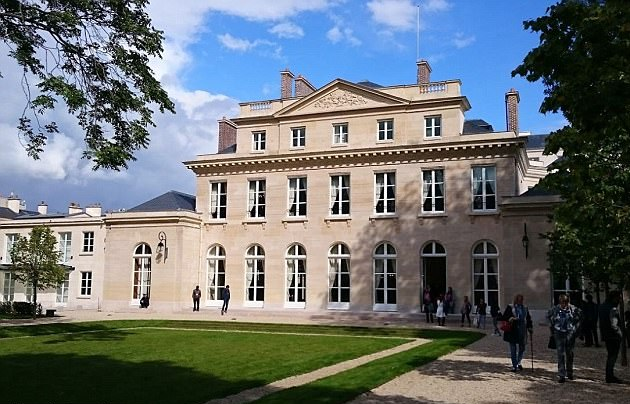 About the embassy
In the past decades, with the continuous development of Sino-French bilateral relations, the staff of the Chinese Embassy in France has been expanding and its business has increased substantially. The main functional departments in charge of consular affairs, business, culture, education, science and technology have not been able to use the office space. , gradually moved out of the 11th George Street, and opened a new office. The Chinese Embassy in France shoulders the heavy responsibility of promoting Sino-French relations and is willing to reinforce the wisdom of the Chinese and French circles to jointly push the cooperation between the both countries sides to a new level.
The first Western country was France to establish diplomatic relations with China. Since the establishment of diplomatic relations between the two countries in 1964, the relationship between the two countries has been continuously developed and matured, demonstrating strategic, global and contemporary times. At present, cooperation and humanities exchanges in various fields between China and France are flourishing and continue to benefit the two peoples.