Embassy of the Hellenic Republic in the Republic of France
The Hellenic Republic embassy in France is located in the center of Paris. The Embassy's working hours are from 9.30 to 13.00 by local time.
Address of the embassy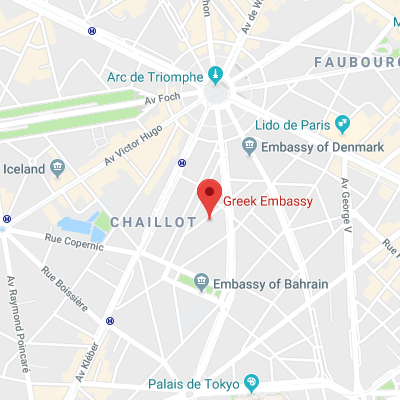 The Hellenic Republic embassy in France is located at 17, Rue Auguste Vacquerie, Paris. The Embassy's postal code is 75116.
Contact details
Tel.: (+33) 1 4723 7228
Fax: (+33) 1 4723 7385
e-mail: gremb.par@mfa.gr
The official website:
mfa.gr/france
Ambassador
Ambassador Extraordinary and Plenipotentiary posted to France at the Hellenic Republic embassy is Her Excellency (H.E.) Mrs. Aglaia Balta
During his career Mrs. Aglaia Balta has served in a lot of capacities, among them:
2016-2018 Chief of Protocol, Ministry of Foreign Affairs, Athens;
2012-2016 Ambassador of Greece to the Republic of Chile;
2008-2011 Consul General of Greece in New York, United States of America;
2006-2008 Minister attached to the diplomatic office of the Minister of Foreign Affairs, Ministry of Foreign Affairs, Athens;
2004-2006 European Correspondent, Directorate for Political Affairs and Security, Ministry of Foreign Affairs, Athens;
1999-2003 Deputy Speaker, Political and Security Committee, Permanent Representation of Greece to the European Union, Brussels, Belgium;
1997-1999 Head of Albania, Southeast European Countries Directorate, Ministry of Foreign Affairs, Athens;
1995-1997 First Secretary, Ambassador of Greece to Seoul, Republic of Korea;
1991-1995 Consul, Consulate General of Grecia, London, United Kingdom;
1986-1990 Diplomatic Cabinet from Presidency of the Republic, Athens;
1984-1986 Embassy Attaché, Asia Branch, Ministry of Foreign Affairs, Athens
Pictures of the embassy
About the embassy
The Greek Embassy covers and monitors beyond bilateral political cooperation and the needs of the homeland community here and a wider framework of actions, such as cultural, tourism and, of course, economic business from Greece to France. Today, the Greek Embassy in Paris and coordinating a network of unpaid Greek Consulates and Consulates operating on French territory continues to make an effective contribution to maintaining a friendly and excellent cooperation between Greece and France.
The Greek Embassy in Paris started its operation in 1833. Constantine Karatzas was appointed first ambassador of the newly established Greek State in France. In the following decades well-known Greeks such as Spyridon Trikoupis, Alexander Mavrokordatos and Nikolaos Politis served Greece from the post of the Greek Ambassador.