Turkey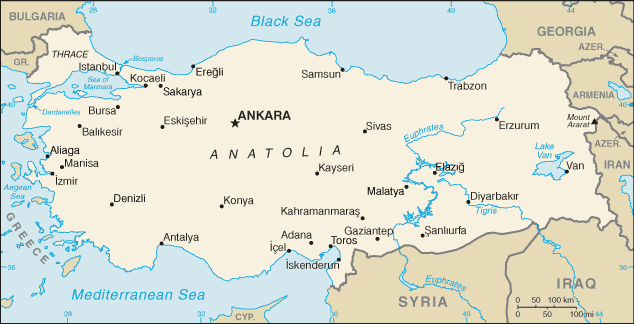 Turkey is country of Europe located in east Europe - partly in Asia.
Details
| | |
| --- | --- |
| Official Name: | Republic of Turkey |
| Capital: | Ankara |
| Total area: | 783 562 km2 |
| GDP per capita: | $17,651 |
| Native Language: | Turkish |
| Government: | Unitary parliamentary republic |
| Population: | 75,627,384 |
| Major Religion: | Islam |
| Monetary Unit: | Turkish lira (TRY) |
Turkey, officially the Republic of Turkey, is a transcontinental country, located mostly on Anatolia in Western Asia and on East Thrace in Southeastern Europe. Turkey is bordered by eight countries: Bulgaria to the northwest; Greece to the west; Georgia to the northeast; Armenia, Iran and the Azerbaijani exclave of Nakhchivan to the east; and Iraq and Syria to the southeast. The Mediterranean Sea is to the south; the Aegean Sea is to the west; and the Black Sea is to the north. The Sea of Marmara, the Bosphorus and the Dardanelles (which together form the Turkish Straits) demarcate the boundary between Thrace and Anatolia; they also separate Europe and Asia. Turkey's location at the crossroads of Europe and Asia makes it a country of significant geostrategic importance.
Economy
Turkey has the world's 15th largest GDP-PPP and 17th largest nominal GDP. The country is among the founding members of the OECD and the G-20 major economies. During the first six decades of the republic, between 1923 and 1983, Turkey has mostly adhered to a quasi-statist approach with strict government planning of the budget and government-imposed limitations over private sector participation, foreign trade, flow of foreign currency, and foreign direct investment. However, in 1983 Prime Minister Turgut Özal initiated a series of reforms designed to shift the economy from a statist, insulated system to a more private-sector, market-based model.
Immigration and residency
If you are interested in moving to the countries, either with a residence permit or by acquiring a citizenship, please contact us, and also get acquainted with the relevant migration documents.