Embassy of the Canada in the Czech Republic
The Canada embassy in Czech Republic is located in the center of Prague. The Embassy's working hours are from Monday to Thursday 8:00 – 12:30 and 13:00 – 16:30 on Fridays 8:00 – 12:30 and 13:00 – 14:00 by local time.
Address of the embassy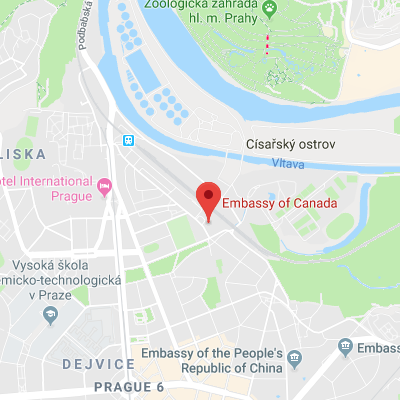 The Canada embassy in Czech Republic is located at Ve Struhach 95/2. The Embassy's postal code is 160 00.
Contact details
Tel.: (+420) 27210 1800
Fax: (+420) 27210 1890
e-mail:
canada@canada.cz
The official website:
canadainternational.gc.ca/czech-tcheque/
Ambassador
Ambassador Extraordinary and Plenipotentiary posted to Chechia at the Argentine Republic embassy is Her Excellency (H.E.) Mrs. Barbara Catherine Richardson
Barbara C. Richardson (B.A. University of Alberta) has extensive travel and work experience outside Canada. She joined the Department of External Affairs and International Trade in 1988 and moved to Citizenship and Immigration Canada in 1992. She re-joined the Department of Foreign Affairs and International Trade in 1999. Since then she has served as the Political Counsellor and Deputy Head of Mission in Kenya (accredited to Uganda, Burundi, Rwanda, Somalia and Eritrea). She was also Canada's Deputy Permanent Representative to the United Nations Environment Programme (UNEP) and to the United Nations Centre for Human Settlements (UN-HABITAT). In 2005 2008 she was Canada's High Commissioner to Bangladesh to 2008 and then Ambassador to Zimbabwe and Angola and High Commissioner to Botswana. In 2011 returned to Canada she has been the Director General for Consular Operations, Director General for Mission Operations and Client Relations and Inspector General for Global Affairs. She was consigned Ambassador to the Czech Republic in October 2016.
Pictures of the embassy
About the embassy
Canada and the Czech Republic have longstanding and close ties. Canada sheltered Czechoslovak political refugees in 1948 and 1968 and offered steadfast support for dissidents throughout the Communist period. Since 1989, official, personal and family ties between the two countries have been renewed and strengthened.
At the Embassy luggage, bags and electronic devices are not permitted. Cell phones should be deposited at the guard house. The Embassy is not responsible for deposited items.