Embassy of the Swiss Confederation in the Czech Republic
The Swiss Confederation embassy in Czech Republic is located in the center of Prague. The Embassy's working hours are from 8.00 to 12.30 and 13.30 - 17.00 by local time.
Address of the embassy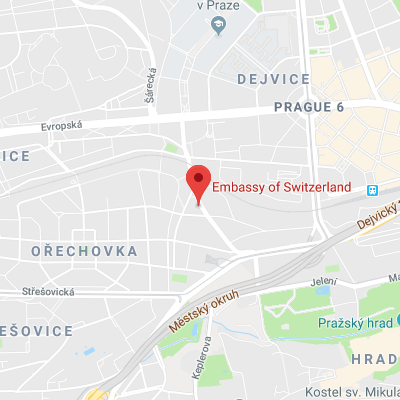 The Swiss Confederation embassy in Czech Republic is located at Stresovice, Pevnostni 7, Prague. The Embassy's postal code is 162 01.
Contact details
Tel.: (+420) 220 400 611
Fax: (+420) 224 311 312
e-mail:
pra.vertretung@eda.admin.ch
The official website:
eda.admin.ch/prag
Ambassador
Ambassador Extraordinary and Plenipotentiary posted to Chechia at the Swiss Confederations embassy is His Excellency (H.E.) Mr. Dominik Furgler
During his career Mr. Dominik Furgler has served in various capacities, among them:
Ambassador of Switazerland to the Czech Republic bei Federal Department of Foreign Affairs, Switzerland;
2009 - 2013 - Swiss Ambassador in Cairo;
2005 - 2009 - Deputy Director for Resource and Head of Personnel, Berne;
2001 - 2005 - Head of UN Coordination Section, Berne;
1997 - 2001 - Head of Economic Section, Swiss Embassy, London;
1993 - 1997 - Head of Press and Information Section, Integration Office, Berne
1990 - 1993 - Swiss Delegation to the OECD, Par;
1987 - 1990 - Economic & Financial Service, Bern
Pictures of the embassy
About the embassy
The embassy of Switzerland covers all matters concerning diplomatic relations between the two countries. The emabssy represents Swiss interests in the areas of political, economic and financial affairs, legal arrangements, science, education and culture.
The embassy supports cooperation between both countries. In this aspect, close contact with the respective ministries of economic affairs is important. The countries meetings organised by the embassy are used to strengthen relations between Switzerland and the host country.